INTRODUCTION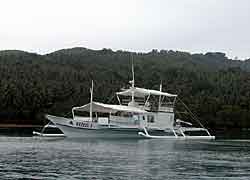 In April 2003 we acquired a boat in the Philippines: the Guphil I. A boat of the type locally called a banka. That is a trimaran with a sharp keel, very long and slender, with two outriggers. When seen from a plane, the bankas zigzagging between the islands look very much like white water striders, but those bankas have something about them that is fascinatingly beautiful.
Way back in 1986, when I first was on one, in the Bay of Anilao, southern Luzon, the outriggers breaking the surface in a cloud of white fountain drops on the deep dark blue background of the depths fascinated me. And that has never stopped. However, the acquisition of a big banka was a dream come true suddenly, which I had never really foreseen.
Basic geographic knowledge is important for a further understanding of this journal. Because the movements of a boat are dependent on the will of the owners, knowledge of their motives of navigation are also included.
Geographically, the Philippines are in the extreme southeastern part of Asia. It is a vast archipelago with 7150 islands just he equator. A marvelous sea that may have many different vistas surrounds these islands. In general the inner seas are quite calm and flat, much as seen on postcards showing the "ideal Pacific."
But the waters facing both the Indian and Pacific Oceans are much different, of course. The main islands are Luzon in the north and Mindanao in the south. Cebu is a large island in the center, and has the second largest city of the country, Cebu City. In front of this huge town lies a small dreamy island, Mactan, that became the center of the conchological world in the Philippines ever since Magellan was killed there nearly 5 centuries ago. Guphil I is based there in a small harbor resort called Hadsan.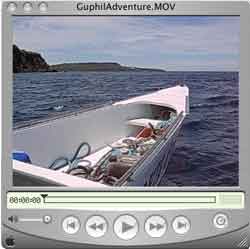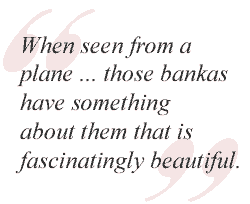 Guphil I is a 22 m-long banka (also called pumpboat), 10 years old. The ship was built to order for Lucy who is a major shell dealer in Mactan. Lucy has lots of experience with bankas, since he owns dozens of boats that travel mainly to Palawan for sea cucumbers, shells and other marine products. Its second owner was a Chinese businessman who transformed the boat for fishing; the name at that time was Kingfisher. A second deck on the back part of Guphil served as lookout for easier spotting of sport fish on the surface. Another leftover from that time, oh so nice to use, is a fighting chair in the back of Guphil. Kingfisher was acquired by a Belgian businessman, Michel Marchant, who renamed it Valentina. It was only used for diving since then. It is now the property of Conchology, Inc. and the name has changed once more to Guphil I thus sealing the business association between me, Guido, and my son, Philippe. It is a pleasure to see that this name was quickly approved by all involved, being easy to pronounce for us Flemish, as well as for the Visayans.
On purchasing Guphil, it was agreed to keep 2 of the crew: captain Andol and Edgar. Later we also hired Oloy because 3 people are needed to maneuver a boat of this size. Pedro joined as diving expert and is responsible for the compressor and the diving gear. Today Guphil is equipped with radar, radio, GPS and more similar stuff. But also dredging equipment and tangle nets are on board.